HEADLAMP SWITCHING MODIFICATION MARK 2

DO NOT BUILD UNTIL THIS NOTICE IS TAKEN DOWN

IT'S A DESIGN IN PROGRESS AND IS INCOMPLETE BEFORE THEN



This design improves vehicle headlamp brightness by reducing the voltage drop associated with the length and gauge of wiring normally fitted to the headlamp circuits.

It is designed specifically for the CitroŽn BX and for the use of BXClub members - see BXClub.co.uk and has the same functionallity as the original design.

OVERVIEW

The CitroŽn BX has basic switching for sidelights, dip and main beams. When both sidelights and ignition are on the dip filaments are driven at low intensity - "dim-dip" - this prevents the car being driven on sidelights alone.

The electronics in this design is only responsible for the dim-dip function and only differs from the original in that the brightness of dim-dip is adjustable and almost entirely avoids the slight inefficiency of the original resistive design.

Dip beam and main beam functions are operated by relays with power being derived from a new high current (and therefore low voltage drop) wire direct from the battery.

POWER SOURCE

In order to reduce voltage drop to the headlamps a high current wire should be fed from the battery to the headlamp area to feed the new control arrangement - this should be fused at the battery end to reduce the risk of fire in the event of serious front end damage to the vehicle which could short out the wire to chassis. A 20 amp fuse should suffice unless high power filament are used and additional lighting such as spotlamps are driven from the same wire.

One way to provide power to the electronics is by using a relay.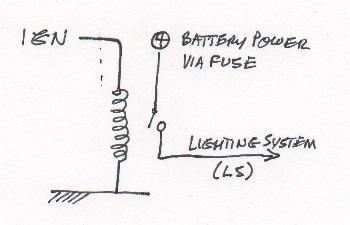 MAIN CIRCUIT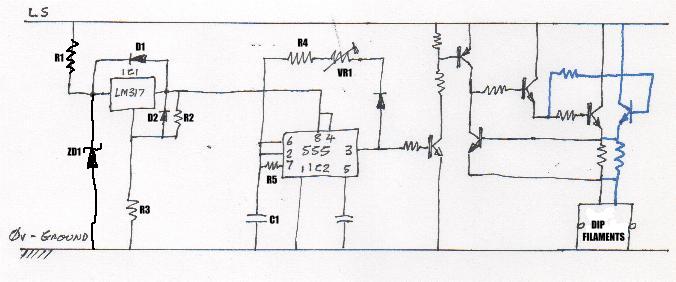 CIRCUIT DESCRIPTION

IC1 provides stable regulated power for IC2. A further description of the LM317T including this particular circuit configuration is at

IC2 is an oscillator with an adjustable mark / space ratio which drives pulses into the next stage. A more detailed description of the 555 timer including this particular circuit configuration is at

The remaining circuit consists of a power buffer with current limiting and is adequately described on the LM317T page link as above.

The circuit drives power in the form of pulses to the dip filaments. The frequency of these pulses is too high for the filaments to respond so they glow in response to the average amount of power delivered to them.

When the circuit is started the filaments are very low resistance and the current limiter will operate to protect the drive transistors but when the filaments have warmed to their operating temperature their resistance will be high enough for the limiter not to operate. At this point the output transistors will either be "on" or "off" and so will waste very little power and should run dissipate very little heat.